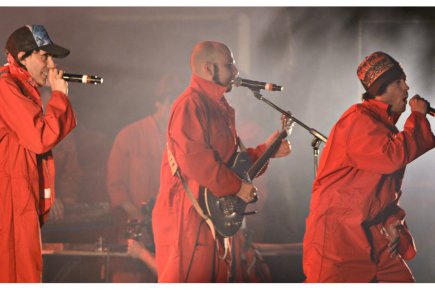 Loco Locass in action
RY Montreal Bureau
The closing weekend of the
FrancoFolies de Montréal
, the first major festival of Montreal following the Grande Prix Forumla One race, saw audiences go wild to Quebec musicians
Loco Locass
and Algonquin rap musician
Samian
. The activist hip hop group wrapped-up their show with chants, flag waving, casseroles and then welcomed the spokespeople of the student movement on to the stage to preform together an extended version of their hit song  
Libérez-nous des libéraux
(Liberate us from the Liberals) for over fifteen minutes.
The Youtube of this high-energy close of their act is below, and if you are interested in a front-row view of the show,
click here.
  The inclusion of
Samian,
 the group said, was not just to again join forces with this  outstanding young artist but also showed that Aboriginal struggles and rights must be part of the Quebec perspective for sovereignty.  
Samian,
 who helped host last November's Aboriginal People's Music Awards, has preformed across Canada and internationally and recently become an outspoken voice against the Quebec government's Plan Nord and its impact on First Nations communities.
It appears that the Charest Liberal's are already trying to silence certain pro-student groups from the some of the huge music and cultural festivals that entertain the people of Quebec during the summer. Nevertheless, political comments and slogans, the ubiquitous and supposedly subversive red square, and even a few pots and pans have regularly sneaked on to stage at the ten day
FrancoFolies.