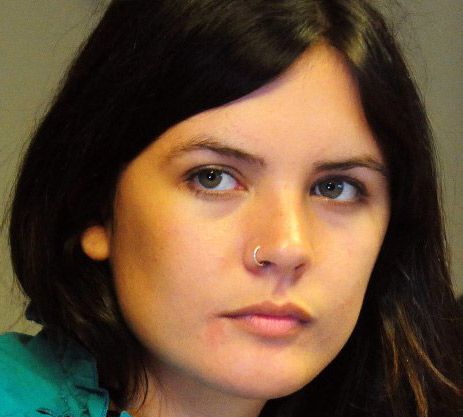 Camila Vallejo and the struggle of Chilean students
will be the subject of an article in February's People's Voice
The popular student leader and vice president of the University of Chile's Student Federation (FECh), Camila Vallejo launched her new book "Podemos cambiar el mundo" or "We can change the world" at a central park in the capital Santiago de Chile on the second day of the centenary celebration of the Communist Party, Fiesta de los Abrazos.
On the stage Camila stressed the idea that the struggle for deep structural changes in the education system is a response to the demand from the public and urged the social movement "to come out of marginality" and said it is "not enough to make suggestions for others to carry out."
The book consists of collected texts written by Camila in 2011, including opinion articles and an unedited interview with Vallejo by Francisco Herreros, a Chilean journalist. Subjects within the texts include the discrepancies within Student Confederation of Chile (CONFECH), the fall of former Minster of Education Joaquín Lavín and the relation between the students' movement with political parties.
The book is on sale at a special of price of 5.000 Chilean Pesos (approximately 10 dollars) and has already proved popular with sales of 4.500 on the day of release.
The Chilean Communist Party has strengthened its leading young people and proclaimed the former president of the Student Federation of Santiago, Cameron Ballestero, as a candidate for mayor of the Estación Central commune in municipal elections taking place in October of this year.
The party is also considering Vallejo for their candidate for parliamentary elections in November 2013, especially after the survey from Centro de Estudios Públicos or Center for Public Studies, ranked her fourth in the most influential political figures in Chile.
Ms Vallejo reputation is not limited to Chile: she was voted person of the year in a poll of guardian.co.uk readers and has lectured in several Latin American and European countries even before business forums.